This past Wednesday our family (CW Designs) took a field trip to The Alexa Machine Company in Dallas to watch one of Carol's designs screen pressed for the first time. A while back Carol and I started thinking about creating a map that highlighted some of the awesome places to eat on the Square in McKinney, TX. Carol spent months going over layouts, concepts, and materials while I offered my occasional two cents! Finally, last week we had a layout and concept that we liked. Carol always wanted to have one of her designs screen printed on a tea towel, clearly her first generation Scottish roots were at play. We looked around the Dallas area to find a shop that would best fit our needs and were rewarded when we found the people of The Alexa Machine Co.
The Alexa Machine Company is a small family business that services small businesses like CW Designs. Roseamber and her husband, Jan, own the small shop located in a nondescript business park in North Dallas, but their work is anything but nondescript. They are truly dedicated to their craft and take pride in bringing an artists vision to life. They've worked with bands from all over Dallas, small businesses, and even some of Dallas' best know artists. Besides being kick ass at what they do, they are down to earth people who know the challenges a small business faces. We spent the morning talking about pigments, Jan's former life in metal bands, and discussing the leap of faith it took to do something they loved. It was a pretty great morning and it reaffirmed our efforts in making CW Designs a full on family business. Owning a small business has made us acutely aware of where our money goes and who it goes to and when Carol and I were watching Jan and his assistant set up the press in an increasingly warmer garage while humming classic rock tunes I saw where our money was going and it made me smile.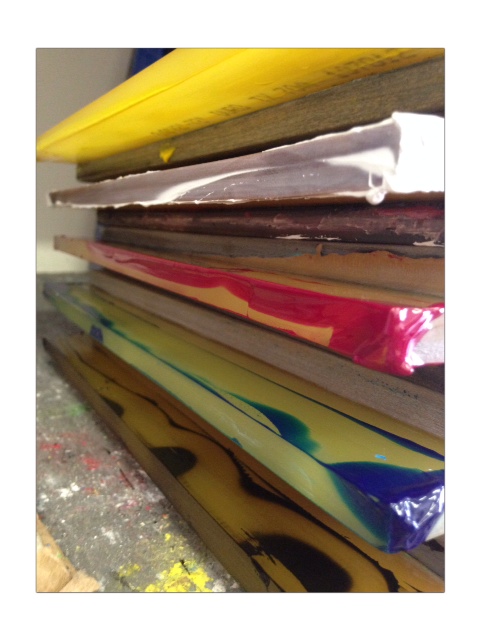 This map only highlights a small portion of what makes McKinney a great town. We hope that you'll support all of the great small businesses in McKinney because that's what makes it special and why Money Magazine rated it the #1 place to live in America. Small businesses across the country are what makes this country great and we appreciate every order from newly engaged couples, small businesses, real estate agents, and wedding/event planners from all across the country and the globe. Your money goes to helping us achieve our goals as a small business and to provide for our children.

Support a small business on ETSY, buy from artisans, and shop at your neighborhood grocer. Should your travels ever take you to the burgeoning outpost of McKinney, head to the Square and shop, have a drink, and eat a fantastic meal, all while knowing you are helping a small business and a family. Oh, and buy a tea towel to remember your trip.